Contemporary Advances in Education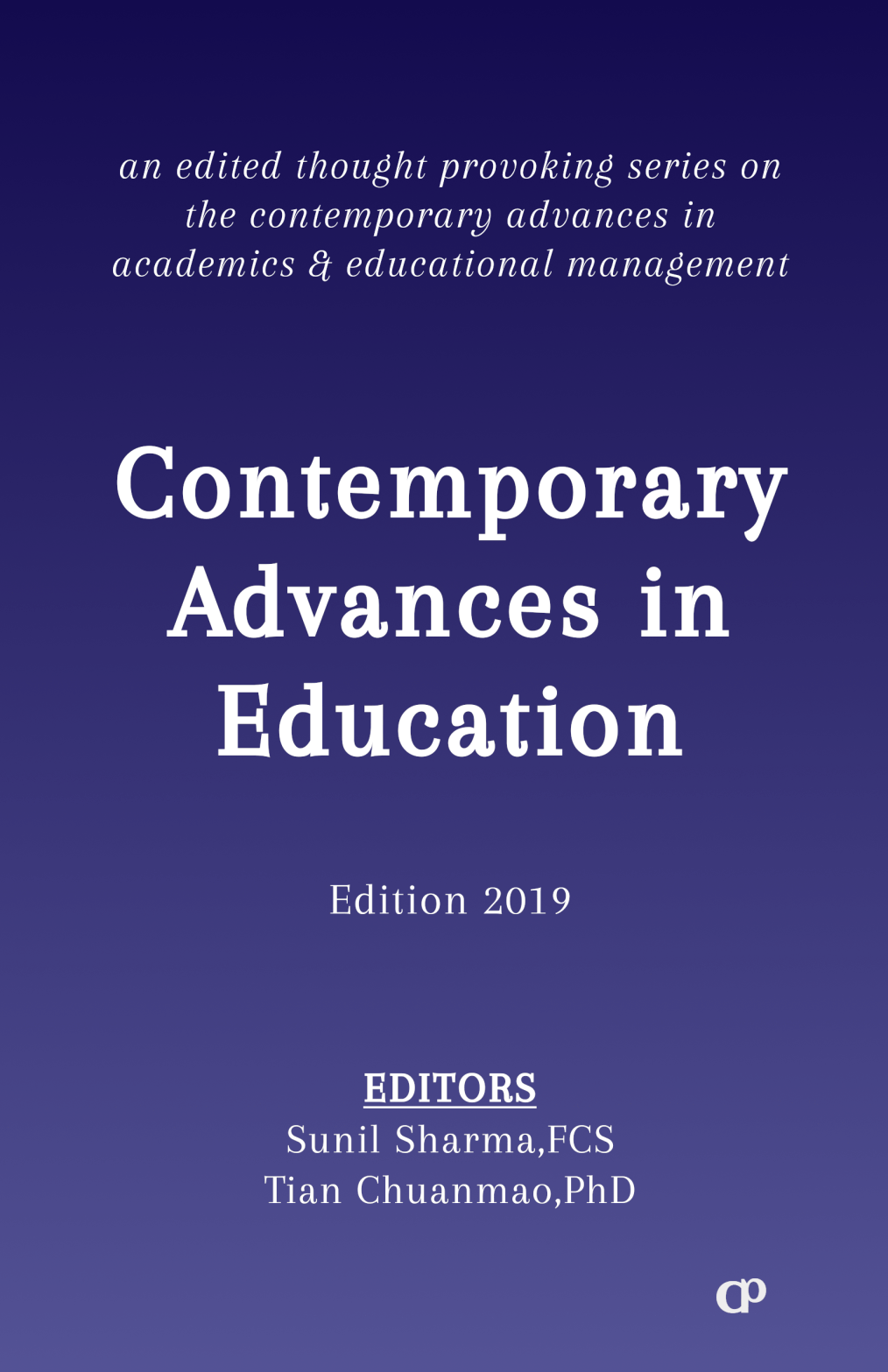 ISBN (paperback): 978-81-940692-2-5
ISBN (ebook): 978-81-940692-3-2
Digital Object Identifier (DOI):10.21013/csmflpub.978-81-940692-2-5
Editors: Sunil Sharma, FCS, Fellow, The Institute of Company Secretaries of India, New Delhi, INDIA.
Tian Chuanmao, School of Foreign Studies, Yangtze University, Hubei, CHINA.
---
About the book
Contemporary Advances in Education Edition 2019 is a compilation of recent developments in contemporary academics. This book advocates for the institutional efforts for teacher training to make the academics more effective. Interpolation of roles of family and educational institutions has been discussed. The book introduces key developments taking place in the labour market vis-à-vis higher education besides analysing the labour & skills developmental horizons. The book analyses how educational technology has been a change enabler throughout the classrooms. The role of Information & Communication Technology in language learning and at the school level has also been critically examined. The role of Artificial Intelligence (AI) in academic teaching & learning methodologies has been discussed Just like any other place, academics also need equal participation of women in leadership roles. This book has discussed the state of women leadership in contemporary higher educational institutions. Code-switching, self-advocacy and special education are other key issues which have diligently been discussed in this book. The state of inter-cultural settings vis-à-vis English language teaching has also been reviewed in the light of available literature.
© 2020, CSMFL Publications & its authors.
---
Chapters
by Osama Al-Mahdi
DOI: 10.21013/97881940692251
by Z.W. Taylor
DOI: 10.21013/97881940692252
by Chuanmao Tian
DOI: 10.21013/97881940692253
by Joyce Lihemo Kedemi, Rosemary Wahu Mbogo, Edward Aligula
DOI: 10.21013/97881940692254
by Sunil Sharma
DOI: 10.21013/97881940692255
by Oliver B Smith
DOI: 10.21013/97881940692256
by Osama Al-Mahdi
DOI: 10.21013/97881940692257
by Xiaoqiu Fu & Keli Liu
DOI: 10.21013/97881940692258
by Rugare Mareva
DOI: 10.21013/97881940692259
by Huang Bin
DOI: 10.21013/978819406922510
---