Management of Data in AI Age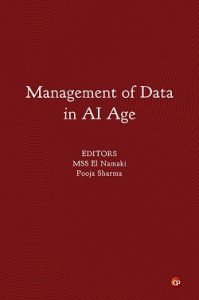 Edited by: MSS El Namaki, PhD, Dean, School of Management, Victoria University, Switzerland.
Pooja Sharma, Managing Partner- Business Automation, SKS Consulting & Advisors, India.
ISBN (paperback): 978-81-948483-4-9
ISBN (ebook): 978-81-948483-5-6
10.46679/isbn9788194848349
---
About the book
This book is a compilation of contributed works on management of data in the age of artificial intelligence. The AI technologies have changed the way the businesses do manage themselves in modern times. It becomes much more important to manage the data a business owns when the same can be collated and used by the allied AI technologies for forming business decisions.
This book highlights how AI and machine learning can help businesses categorise and manage their organizational data. The book introduces how small businesses can benefit from AI technologies for their data management with limited budgets. The book advocates for making AI processes to be core part of consumer experience and support management within the businesses.
As a unique feature, this book also goes to make an awareness as to how human brain can use AI's deep learning capabilities to make reflective decisions. The book also introduces as to how big data and big data analytics can help agriculture and farm management sector.
It is hoped that the readership will find this book useful in the areas of big data management, machine learning and data decisions, AI technologies for small businesses, usage of AI in emerging sectors and those areas where data needs to be managed in an environment of automation.
© CSMFL Publications & its authors.
---
Chapters
by Amandeep Kaur, Anjum Mohammad Aslam
---
by Mikael Wiberg
---
by M S S El Namaki
---
by Pooja Sharma
---
by P. K. Paul, Anil Bhuimali, R.R. Sinha, K.S. Tiwary, Pappachan Baby, R. Rajesh
---