Contemporary Translation Studies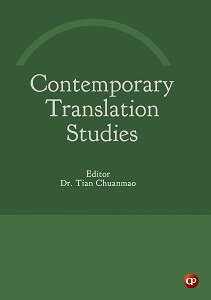 Editor: Dr. Tian Chuanmao
Director of the Centre for Translation Studies, Yangtze University, China.
ISBN (paperback): 978-81-948483-0-1
ISBN (ebook): 978-81-948483-8-7
10.46679/9788194848301
Also available in Google Books, EBSCOhost, Google Play Books & Amazon
---
About the book
Translation studies become even more relevant with the advent of cross border sharing of ideas related to general trade, culture, and human developmental activities. Contemporary translation studies cover works having considerate relevance and importance to the subject discipline.
This book is a compilation of peer-reviewed works having special focus on the contemporary developments and advances in the translation studies.
© CSMFL Publications & its authors.
---
Chapters
by Tian Chuanmao
---
by Sare R. Öztürk
---
by Evgeniia V. Zimina
---
by Ranita Chakraborty Dasgupta
---
by Ping Li and Chuanmao Tian
---
by Erdem Akgun
---
by Shubhangi Shrinivas Rao
---
by Mianjun Xu, Tianyuan Zhao & Juntao Deng
---