The Economics of Skills: Pathways to Employability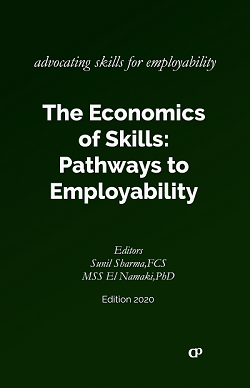 ISBN (paperback): 978-81-940692-8-7
ISBN (ebook): 978-81-940692-9-4
Digital Object Identifier (DOI):10.21013/9788194069287
Editors: Sunil Sharma, FCS, Fellow, The Institute of Company Secretaries of India, New Delhi, INDIA.
MSS El Namaki, PhD, Dean, School of Management, Victoria University, Switzerland.
---
About the book
The Economics of Skills: Pathways of Employability is all about the economics of skills and the relevance of the skills for exploring the newer frontiers of the employability. The book consists of content to present the importance and relevance of employability skills and the ways the same could be achieved. The book successfully correlates the employability skills and their importance for generating employment, entrepreneurship, and value creation opportunities within an economic system.
© 2020, CSMFL Publications & its authors.
---
Chapters
by Christopher A. Burnett & Z.W. Taylor
DOI: 10.21013/978819406928701
by Sunil Sharma
DOI: 10.21013/978819406928702
by Rono Kiplangat Kenneth
DOI: 10.21013/978819406928703
by Cenby Eppie G. Gaytos et al.
DOI: 10.21013/978819406928704
by M. Pratibha
DOI: 10.21013/978819406928705
---