Innovations in Educational Leadership and Continuous Teachers' Professional Development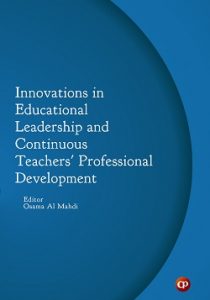 ---
About the book
This edited book offers an updated insight into a number of key elements of educational leadership and teachers' professional development topics. The authors believe this book will be of great help and interest to a wide range of readers: policy makers, researchers, school leaders, teachers, under-graduate and post graduate students.
Peer Reviewers of the book
The editor would like to thank the peer reviewers for their effort and expertise they contributed to reviewing the book chapters, without which it would be impossible to maintain the high standards of refereed scientific research.
Dr. Amani Hejazi – Senior Quality Inspector – KHDA – UAE
Dr. Fuad Trayek – Al Najah University – Palestine
Dr. Ghadah Hassan Al Morshedi – United Arab Emirates University – UAE
Dr. Habiba AbJalil – Universiti Putra Malaysia – Malaysia
Dr. Mohammed Hasan – Al Ahlia University- Bahrain
Professor Noman Al Mousawi – University of Bahrain – Bahrain
Dr. Reem Al Bu Ainin – Bahrain Polytechnic – Bahrain
Dr. Sazali Yosouf – Institute of Teacher Education – Malaysia
Dr. Sofia Ligawen – Bahrain Training Institute – Bahrain
Dr. Zainab Al Touq – Bahrain Training Institute- Bahrain
© 2020, CSMFL Publications & its authors.
---
Chapters
by Dennis Koyama
DOI: 10.46679/isbn978819484832501
by Mohammed Issah, Abdulghani Al-Hattami
DOI: 10.46679/isbn978819484832502
by Lucy Bailey
DOI: 10.46679/isbn978819484832503
by Aieman Ahmad Al-Omari
DOI: 10.46679/isbn978819484832504
by Masooma Al Mutawah
DOI: 10.46679/isbn978819484832505
by Ted Purinton
DOI: 10.46679/isbn978819484832506
by Shuti Steph Khumalo
DOI: 10.46679/isbn978819484832507
by Hasan Mohsen Al-Wadi
DOI: 10.46679/isbn978819484832508
by Osama Al Mahdi
DOI: 10.46679/isbn978819484832509
by Sana Al Haddad
DOI: 10.46679/isbn978819484832510
by Ahmet Göçen
DOI: 10.46679/isbn978819484832511
by Kheder Mahmoud, Catherine Arden, Jennifer Donovan
DOI: 10.46679/isbn978819484832512
by Frederic Fovet
DOI: 10.46679/isbn978819484832513
---